Knorr Chicken Broth Base 1.5kg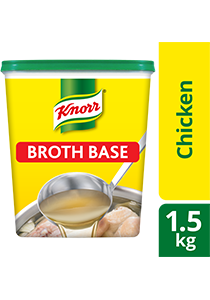 Article Code
21043935
4800888603210
24800888603214
Preparation
For a full-flavoured chicken broth, add 20g of Knorr Chicken Broth Base into one litre of boiling water.

For a milder taste, (i.e. hotpot applications), add 15g of Knorr Chicken Broth Base into one litre of boiling water.

Yield
1 tub of Knorr Chicken Broth Base 1.5kg can generate 75L of soup base
Storage
Pack tightly and store in a cool and dry place.
Benefits
Made with real chicken
No preservatives added
With Iodized Salt
Paste format

Allergen Information
Monosodium glutamate
Disodium 5'-ribonucleotides
Caramel IV – Ammonia Sulphite Process
Nature-identical chicken flavor

Egg, Soybean, Sulphite

Food free from:
- Irradiation
- Alcohol

Additives
No Preservatives Added
No Artificial Colours Added
Ingredients
Iodized salt, Monosodium glutamate, Palm oil, Cornstarch, Palm fat, Sugar, Chicken (chicken, fat) (4%), Nature-identical chicken flavour, Hydrolysed vegetable powder, Water, Disodium 5'-ribonucleotides, Tumeric powder, Onion powder, Caramel colour
Description
Made for Chefs by Chefs. Knorr Chicken Broth Base is made with quality chicken, blended with spices to give you that full bodied meaty flavour and chicken aroma. With a delicious meaty flavour, you can also use Knorr Chicken Broth Base to replace bones and meat as desired, especially in stocks, soup dishes, stews and hot pots.


Nutrition Information

Portion size = 4g

| Typical values | Per 100 g/ml | Per 100ml as sold | Per portion |
| --- | --- | --- | --- |
| Energy kJ | - kJ | - kJ | 0.00 kJ |
| Energy kcal | 325.00 kcal | - kcal | 0.00 kcal |
| Carbohydrate, by difference | 20.00 g | - g | 1.00 g |
| Sodium, Na | 19,100.00 mg | - mg | 974.00 mg |
| Protein | 7.50 g | - g | 0.00 g |
| Cholesterol | - mg | - mg | 0.00 mg |
| Fiber, total dietary | 1.0 g | - g | 0.0 g |
| Total lipid (fat) | 22.50 g | - g | 1.00 g |
| Fatty acids, total saturated | 12.500 g | - g | 0.000 g |
| Fatty acids, total monounsaturated | - g | - g | 0.000 g |
| Fatty acids, total polyunsaturated | - g | - g | 0.000 g |
| Fatty acids, total trans | - g | - g | 0.000 g |
| Sugars, total | 5.00 g | - g | 0.00 g |

*% of Reference Intake of an average adult 8400kj/2000kcal