It is not by chance that Philip Kotler, the world's leading marketing master, shared that, "Vietnam should become the world's kitchen." Vietnamese cuisine is not only plentiful, it also comes in a variety of flavours and preparation styles. This diversity is most evident in its snack collection. In fact, Saigon can be considered the food capital of Vietnam, with thousands of eateries sprouting up in the streets, selling all kinds of specialties from the North to the South.
While Hanoi is famous for pho (beef noodle soup), it is more difficult to choose Saigon's best dish. Every street – whether big or small – has at least a few restaurants, attracting customers with their aroma of vegetables, spicy flavours, and sauces. Here are the 8 top snacks in Saigon chosen by CNN that cover almost all the specialties of the country's three regions.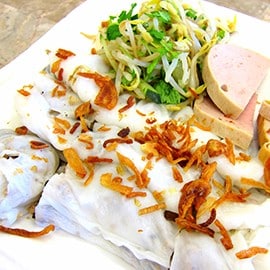 1. Banh cuon (steamed rolls made of rice-flour)
This Northern dish of steamed rice rolls is filled with a mixture of minced pork, mushrooms and shallots, and served with dipping sauce. The thin rice batter requires remarkable skill to handle, and it's truly mesmerising to watch banh cuon being prepared.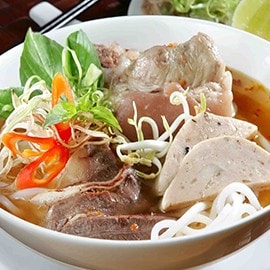 2. Bun bo Hue (Hue beef noodles)
This is a popular dish in Central Vietnam. A bowl of Hue beef noodles includes soft vermicelli, beef, broth and the star – shrimp sauce. Hue beef noodles is served with some basil leaves, banana flowers and chopped green onions.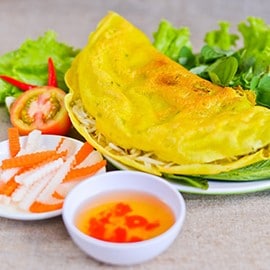 3. Banh xeo (rice pancake folded in half)
Banh xeo gets its name from the sound emitted when the pancake is being made. It is similar to Western crepes, except for the pork, shrimp and bean sprouts inside and the fact that it's served with fish sauce. This is a typical dish of both the South and Central region, although they each have different ways of preparing the pancakes and sauce.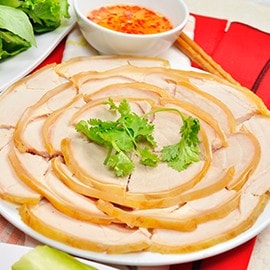 4. Be thui (char-grilled calf)
This Northern dish is made by grilling a whole calf until the meat is tender. The veal is cut into thin slices, mixed with coriander and sliced green banana, then wrapped in rice paper and served with shrimp paste.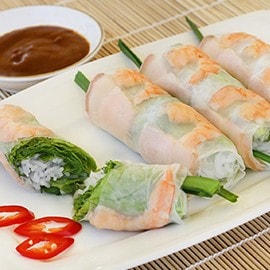 5. Goi cuon (summer roll shrimp)
This popular Vietnamese appetiser is a little different from spring rolls. The core of goi cuon consists of sliced pork tenderloin, shrimp, soft vermicelli, lettuce, mint leaves and chives.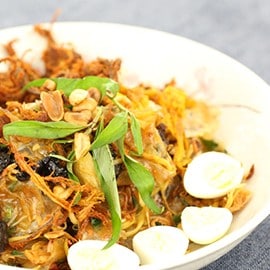 6. Banh trang tron (rice paper salad)
Basically, this is a salad-like dish that contains a medley of ingredients including strips of rice paper, quail eggs, green mango, different kinds of coriander, dried beef and so much more. In fact, this snack has a total of about 16 different ingredients!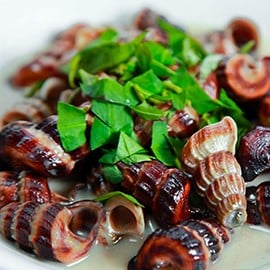 7. Shellfish
From cockles to mussels, Vietnamese seafood can be prepared in a variety of ways to suit your liking. It is extremely well loved by Saigon people looking for a meal after working hours.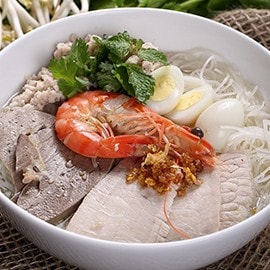 8. Hu tiu Nam Vang (Phnom Penh noodle soup)
This is a dish that tastes like a mix of Chinese and Cambodian cuisine. The noodle strips are thicker than those of pho noodles, the broth is prepared using pig bones instead of cow, and this dish is served with shrimp, pig liver, quail eggs, green onion and other ingredients.
If you're thinking of adding some Vietnamese fare to your menu, our range of ingredients make it so much easier for you to ensure consistent taste and quality in everything you serve up. Try them out and see!