Steamed Snapper Fish and Celery Sauce
Celery may reduce bacteria's growth, naturally supporting immunity against bacterial infections. Steamed Snapper Fish and Celery Sauce is one of the easiest and best steamed fish recipes available. There are many reasons why steaming fish is preferred over other methods of cooking. Firstly, it is much healthier and secondly, most of the nutrients of the fish are retained. I hope you enjoy the dish and have a great week ahead!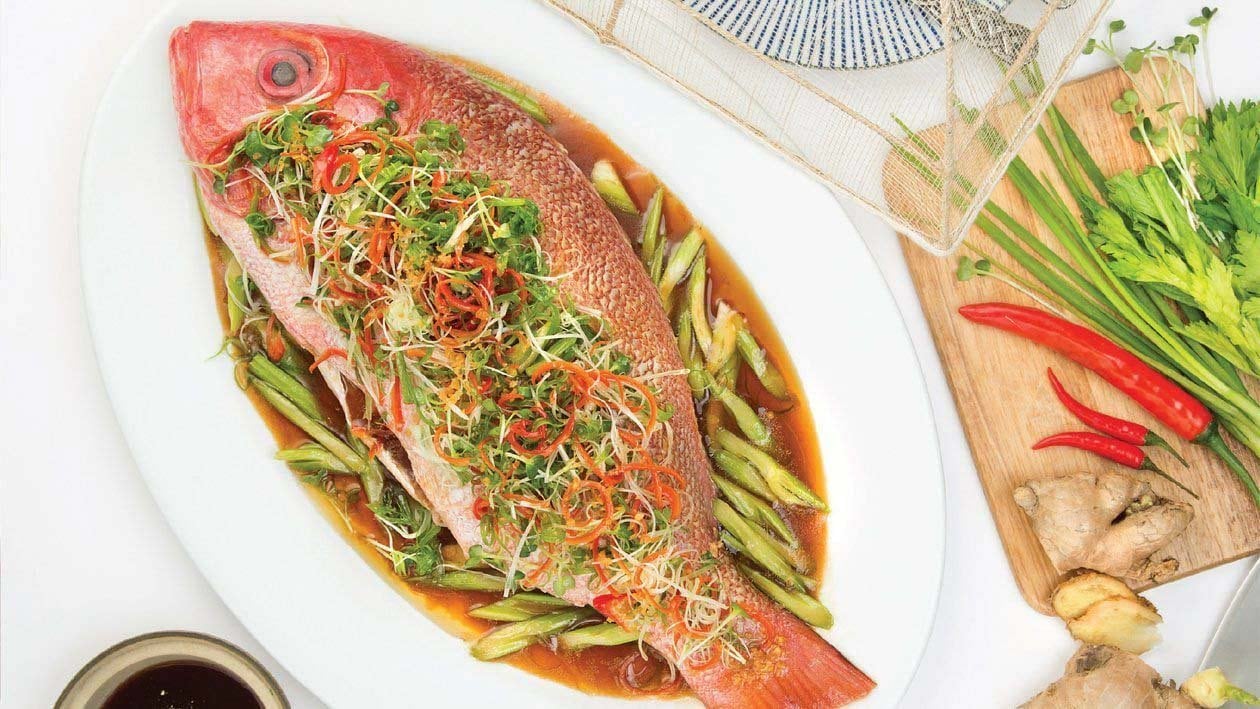 Ingredients
To Prepare the Fish
Whole Snapper Fish

700.0 g

White Pepper, crushed

1.0 g

Green Onion, chopped

30.0 g

Ginger, peeled and crushed

15.0 g
Celery Oyster Flavoured Sauce
Celery, peeled and crushed

50.0 g
Mixed Vegetables
Leek, julienned strips

5.0 g

Ginger, julienned strips

2.0 g

Baby Radish, sliced

2.0 g
Food Presentation
Soybean Oil (to be heated when using it)

30.0 g
Preparation
To Prepare the Fish

Marinate the fish with Knorr Seafood Seasoning Powder and pepper. Stuff the vegetables inside the fish, cover with plastic wrap and steam for 25 to 30 minutes or until cooked.

Celery Oyster Flavoured Sauce

Making celery sauce: Fry the garlic and ginger to a golden brown, add Knorr Oyster Flavoured Sauce, fish sauce, sugar, and stir-fry until the sauce boils. After that, add celery into water to cook, add sesame oil and soy sauce for a beautiful colour.

 

Mixed Vegetables

Mix all ingredients together.

 

Food Presentation

As soon as the fish is done steaming, remove the wrap and the stuffed vegetables inside. Stir the celery sauce well and pour over the fish.
Lay the mixed vegetables on top of the fish. Heat soybean oil in a small saucepan over high heat until it is hot, then pour over the fish and mixed vegetables to scald the aromatics.