Chefs, are you ready to tear up the kitchen in the 2018 Vietnam Chef Talent Contest? Following great success in 2017, the second season of the Vietnam Chef Talent Contest gives chefs like you a chance to showcase your individual talents in a live cooking contest!  You'll get the chance to network with other chefs and discover new ideas – perhaps even business opportunities – along the way. Not to mention, win amazing prizes!



Competition stages
Before claiming the championship title, contestants have to undergo 3 rounds: Provincial, Regional and National.
Provincial Round
In the Provincial Round, contestants have 45 minutes to come up with 2 dishes using the ingredients provided. This round takes place in 3 locations in north, 2 locations in central and 3 locations in south Vietnam.
North
Hải Phòng
Round ended
Hà Nội 1
Round ended

Hà Nội 2
Round ended

South
Cần Thơ
October
Hồ Chí Minh 1
October
Hồ Chí Minh 2
November 
10 winners will be chosen from each location, so there will be 30 winners from north, 20 winners from central, and 30 winners from south Vietnam moving on to compete in the Regional round.


Regional Round

In this round, contestants must follow the directions of the event organiser and come up with a dish within 60 minutes. North, central and south Vietnam will each have one Regional Round. The 5 winning chefs from each region will then compete in the National Round.
South
Thành phố Hồ Chí Minh
November 

National Round
The 15 remaining regional chefs will meet in Ho Chi Minh in December to compete in the National Round, where they must whip up a Vietnamese fusion course with a festive theme. Only 3 will be selected as the winner of the 2018 Vietnam Chef Talent Contest!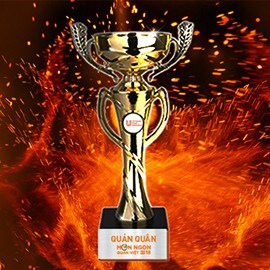 Think you have what it takes? Join the Vietnam Chef Talen Contest and you might just walk away with amazing prizes!

Register Now