Is your buffet or banquet line up in need of a shake up? Have you looked high and low for exotic recipes and dishes to excite your diners, but are running out of ideas?

The solution could be right in front of you – simply create entirely new menus by reinventing classic ASEAN dishes! Here's how: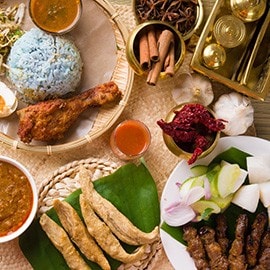 Give local favourites a twist
For inspiration, you don't even need to look far. Singaporean restaurant The Quarters illustrates how this can be done:
Malay satay served as a burger patty, paired with oozy spicy peanut sauce

Classic chicken rice served as poached chicken drenched in a Hainanese broth, with chilli sauce on the side

Curry leaf chicken served with a cream sauce

But that's not all! Look around and you'll discover that Thai flavours like the hot and sour Thai tom yum goong is infiltrating other dishes in the form of tom yum fried rice, tom yum pasta, tom yum truffle fries and even tom yum chicken wings!
You may also take a cue from Sambal Shiok Restaurant – they managed to successfully merge the quintessentially Malaysian flavours of satay and beef rendang to create amazingly delectable burger patties that when served with a crusty hot toasted bun, never fails to bring a smile to diners.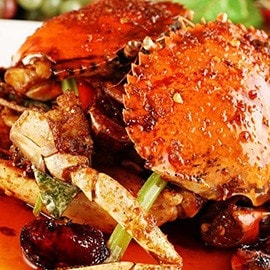 Present old classics in a new style
Sometimes, reinventing food does not mean a total overhaul of ingredients. It can simply be a case of repackaging the old classics into an easier mouthful.
Chilli crab is popular in Singapore, but even its greatest fans will agree that it's messy to eat. To deal with this, The Bao Makers Café and Bakery took the three essential parts —deep fried mantou buns, crab meat and chilli sauce — and made them into something like a pau-burger that many Singaporeans grew to love.
Meanwhile, popular restaurant chain Din Tai Fung combined sweet, delicate crabmeat and hot chilli into a steamed bun, making it not only easier to eat, but also a lot more flavourful with the more proportional meat-to-bun ratio.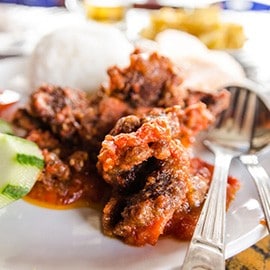 Reinvent your dishes and put your hotel on the map
It shouldn't come as a surprise that hotels can adapt traditional food into original creations while still protecting its authentic core.
Giovanni Sias, Waterfront Manila Pavilion Hotel's Executive Chef recently came up with his take on chicken and pork adobo, in the form of a croquette. Similarly, Manila Hotel's Café Ilang-Ilang simply added adobo to pizza to create something new and refreshing to cater to both traditional and adventurous diners.
With so many possibilities available, your creativity and time are your only limitations. Take time to explore the classics from around the region, then introduce your original take on them and serve at your buffets and banquets.