Knorr Tom Yam Paste 1.5kg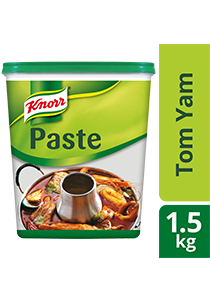 Article Code
21043933
9556024709982
19556024709989
Preparation
Very handy to cook Thai spicy and sour soup:
- For a normal taste: dissolve 30 g of Knorr Tom Yam Paste in 1 litre of water
- For a charming taste: dissolve 50 g of Knorr Tom Yam Paste in 1 litre of water

Yield
1 tub of Knorr Tom Yam Paste 1.5kg can generate 75L of soup base
Storage
Close pack tightly and store in a cool and dry place.
Benefits
Halal
Paste Format

Allergen Information
Product contains sulphites and may contain traces of gluten forms, eggs, crustaceans and molluscs, soy, milk, peanuts and nuts

Monosodium glutamate
Disodiumi 5'-Inosinate
Citric acid
Dinatri 5'-Inosinat
Nature-identical lemon juice flavour
Lemon grass flavour
Synthetic colour

Dietary - Guaranteed
Halal

Additives
No Preservatives Added
Halal - Malaysia
Ingredients
Olein palm oil, salt, sugar, chilli powder, monosodium glutamate, garlic powder, water, citric acid, lemon Kaffir powder, palm fat, lemon grass powder, onion powder, maltodextrin, nature-identical lemon juice flavour, yeast extract, lemon grass flavour, Disodiumi 5'-Inosinate, Chilli flavour, coriander and synthetic colour
Description
Knorr Tom Yam Paste is prepared from traditional Thai recipe. The ingredients are carefully selected for the authentic Thai Tom Yam aroma and taste. It is suitable for preparing Tom Yam soup and spicy dishes.


Nutrition Information

Portion size = 12.5g

| Typical values | Per 100 g/ml | Per 100ml as sold | Per portion |
| --- | --- | --- | --- |
| Energy kJ | - kJ | - kJ | 0.00 kJ |
| Energy kcal | 414.00 kcal | - kcal | 51.75 kcal |
| Carbohydrate, by difference | 22.90 g | - g | 17.55 g |
| Sodium, Na | 10,400.00 mg | - mg | 9,891.95 mg |
| Protein | 5.40 g | - g | 4.41 g |
| Cholesterol | - mg | - mg | 0.00 mg |
| Fiber, total dietary | 6.0 g | - g | 4.0 g |
| Total lipid (fat) | 33.40 g | - g | 32.87 g |
| Fatty acids, total saturated | 15.700 g | - g | 15.660 g |
| Fatty acids, total monounsaturated | 13.500 g | - g | 1.688 g |
| Fatty acids, total polyunsaturated | 4.200 g | - g | 0.525 g |
| Fatty acids, total trans | 0.100 g | - g | 0.030 g |
| Sugars, total | 14.60 g | - g | 10.73 g |

*% of Reference Intake of an average adult 8400kj/2000kcal