Banquets are a popular feature in many hotels and restaurants worldwide.

How can we possibly improve on time-honoured traditions and deliver truly impressive banquets to conference delegates, wedding guests and evening diners? What needs to be done to ensure diners go away buzzing about the quality and selection of our dishes and, more importantly, recommend us to their friends?
Here are our 5 suggestions that you can implement immediately to make your banquet really stand out from the crowd.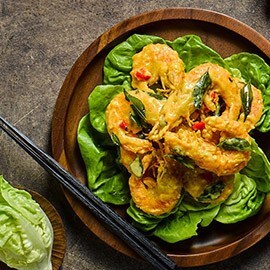 1. Look out for new and interesting trends
Keep a lookout for upcoming dining trends and see how you can ride on them.

A trend that's been riding high since 2016 is the use of salted egg in classic dishes. This ingredient has found its way into everything from pastry to seafood, and even desserts!

Be sure to stay updated on current food preferences, then consider how these can be adapted to modernise your banquet offerings. Be selective in your choices so that food is appropriate and easily managed at the banquet. Consider portion size too. Banquets often mean variety and choice for your diners, so give them the chance to sample several different things that are well portioned.

Today's health-conscious diner is also looking out for balanced, lighter and fresher options when dining, even at banquets and events. So think of ways to excite your diners with more than just food. Take interactive chef dining, for example, where diners witness chefs prepare their meals right in front of them! To jazz things up, consider including house signature dishes in small portions for greater variety.  Take a look at our Related Recipes section for mouth-watering salted egg dishes and get inspired.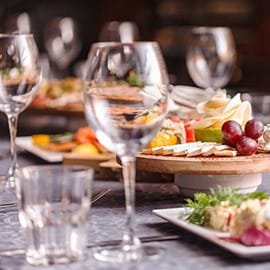 2. Cater to the sophisticated diner by adding gourmet alternatives
Diners at conferences often have more sophisticated food preferences, so remember to consider this when designing a banquet menu for these diners.

Know your crowd. Executives who travel the world are well-versed in international cuisine. Offering varied, sophisticated options at selected business events will appeal to them. Consider the cut of your meats and where they are sourced from. Think of incorporating delicacies from around the world into your menu.

Another factor to consider is how your meats are cured. Are they smoked? Soaked in vodka? Or flavoured with ginger? Consider adding red wine reduction to your meat, offer free-range chicken and organic vegetables with a chili and citrus-infused dressing. What about adding infused oils and vinegars to your food and condiments too?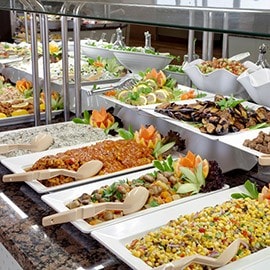 3. Include healthy options
Banquets are no longer limited to the traditional hearty comfort foods of the past. More diners are looking for fresh and light ingredients to tantalise their palates. Health-conscious diners are an ever-increasing market to cater for, and they will be looking for light, reduced fat and portion-controlled items. Consider your dressings and sauces – what can you do to reduce sugars and fats in these areas?

Also, look at staple Asian foods and consider healthier alternatives. For example, using brown rice instead of white rice, and steaming rather than deep-frying fish and meats.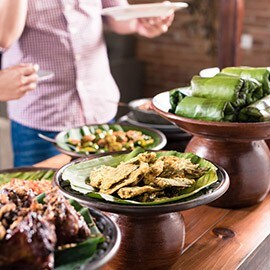 4. Include ethnic flavours
While it's tempting to stick to the usual flavours we know so well – especially when cooking for large groups – it's exciting both for you and your diners to take a chance with new and exciting flavours from around the globe.

Shake up your banquet options with exotic, ethnic flavours alongside established classics. Explore what you can do with infusions of Middle Eastern, North African, Filipino and Korean flavours as variations of your favourite dishes. For example, consider using harissa (hot chili pepper paste) in your dishes or as a condiment – or including falafel, hummus (mashed chickpeas) or a savoury yoghurt in your banquet spread.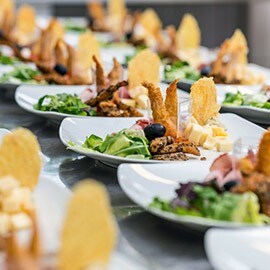 5. Go big, go bold!
Global tastes are increasingly being driven by bold flavours – that means spicy, sour, bitter and tangy flavours are in vogue!

Remember, bold doesn't just mean exotic flavours coming out of Asia. Hot chili pepper sauces such as jalapeño, chipotle and the fashionable habanero sauce may give your dishes a much-needed flavour boost. Other flavours making their mark in 2017 are citrus and tangy fruits and herbs. Pair these exciting tastes with new and classic recipes, or add them to your desserts.
Have fun, go big, go bold and turn any traditional banquet selection into a memorable fusion of new and old, exciting brave taste buds while satisfying traditional palates!