Some say Christmas comes but once a year. Others talk of the Twelve Days of Christmas. In fact, people celebrate throughout December, giving hotels plenty of opportunities to blend innovation with tradition when it comes to creating Christmas dishes.
"Deck the halls with boughs of holly" goes one Christmas carol. Not easily done in Asia, but there are still plenty of festive treats.
The traditional Christmas originated in Western countries, which celebrated the birth of Jesus, but it has become a commerce-and-celebration event even in non-Christian countries. In December, festive decorations appear in big cities in Asia, and the holiday is marked by gift-giving, parties and sharing food with both family and friends. In Vietnam, a legacy of (Christian) French colonialism, they still have a log cake called a bûche de Noël.
In Europe, in years gone by, a goose would sit at the centre of the festive spread. Now it has been pushed out by turkey from the US. In Asia – particularly the Philippines – the spread is just as likely to include roast chicken, duck or a whole suckling pig.
In Asia, Christmas is celebrated most flamboyantly in the Philippines, where festive music starts playing as early as September, and on Christmas Eve people eat lechon (roast pig), bibingka (rice-flour and coconut cake), puto bumbong (sticky rice and yam steamed in bamboo), and other sweets.
Blending traditional and local is common, even in cosmopolitan Hong Kong. Yamm at the Mira Hotel has added a bit of theatre to the Christmas buffet with a turkey carving station, while The Bostonian at The Langham opts for oysters and sashimi alongside the traditional fare. And Kitchen at W also mixes the expected roast goose with wagyu beef and Tasmanian salmon with passion fruit boost.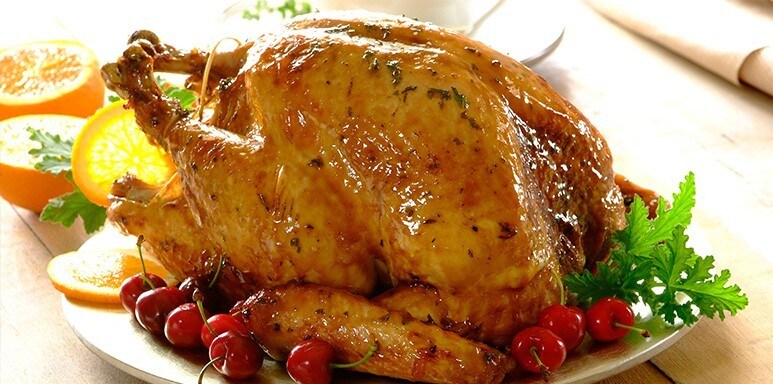 In Singapore, things are no less exciting. Mezza9 at the Grand Hyatt serves Thai-style chicken with honey next to slow-roast turkey with apple sauce, while the Marriot brings a local twist to a Christmas dessert with the Kaya Namachoco Yule Logcake.
In Vietnam, meanwhile, the French influence still shows in the Sofitel Sukhumvit's rotisserie-style chicken and French cheeses.

Whether it's traditional, local, or a combination of both fares, the spirit of celebration remains the same no matter where you are in the world.