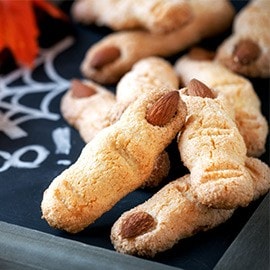 Dead Man Finger Sandwiches
Taking the term "finger food" literally, serve up sandwiches in the form of rolled up bread – with your stuffing of choice – then carve out a few indentations and stick on an almond with a slab of cream cheese to imitate fingernails. Drizzle on some cranberry sauce or strawberry jam for a sinister finishing touch.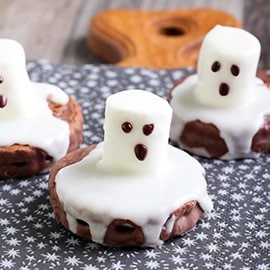 Spooky Brownies
Sinfully sweet and scary at the same time, these adorably ghostly brownies are set to be a children's favourite. Relatively easy to decorate, simply place a piece of marshmallow on top of a brownie slice and drip on a generous coating of white frosting all over.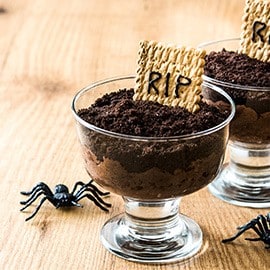 Graveyard Pudding
Fill up a shot glass with decadent chocolate pudding, and sprinkle on a layer of cookie crumbs to imitate soil. Prepare melted dark chocolate separately and decorate a rice cracker for the tombstone with a ghostly "RIP" in frosting.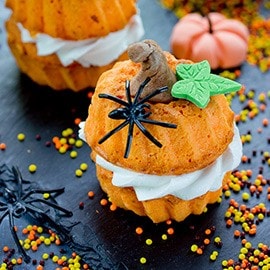 Pumpkin Cupcakes
Pumpkin cupcakes remain a classic favourite due to its fuss-free nature and relatively short preparation time. Slap on a layer of orange frosting onto a cupcake and carve out indentations for a more realistic touch. Finally, stick on a pretzel branch as the stem into the centre and voila!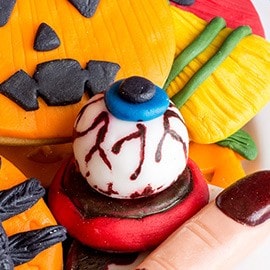 Bloody Donut Eyeballs
Turn regular donuts into terrifying treats with a splash of imagination. All you need are some powdered donuts, jelly, and M&Ms. Simply squeeze on streaks of jelly 'blood' through a piping bag and place an M&M right in the centre to emulate the iris.