There's something especially comforting about a delicious bowl of soup. Whether it's the warm memories, soothing texture or zesty flavour, there are few other food items that can come close to the comfort of a warm bowl of soup.
Today, we take a look at how soups, stews and broths are enjoyed in cultures around the world. Perhaps one of these selections could be an inspiration for your menu today.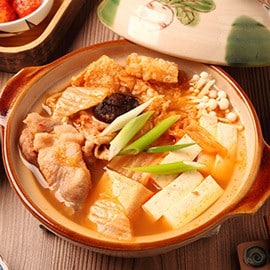 Kimchi jjigae
Country of origin: Korea 
Kicking off our list is this stew-like dish from Korea. As its name suggests, Kimchi jjigae is made using kimchi and includes a huge array of other ingredients, including seafood, scallions, pork and onions. This soup is simple to make and great for diners who want just a little spice and touch of Korean flavour in their soup.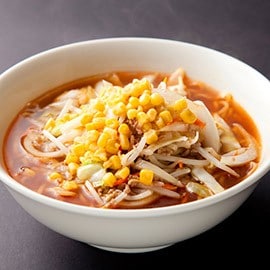 Miso ramen
Country of origin: Japan 
Another soup that's simple to create, this one's an ideal choice for vegetarian customers. You can enhance the flavour of this soup with loads of greens and mushrooms (which will make it more filling as well). This is an excellent choice for diners looking for a filling, one-bowl meal.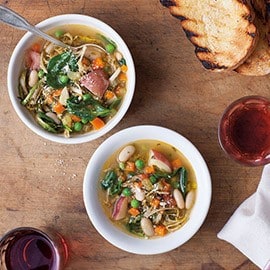 Zuppa di verdure all'agliata
Country of origin: Italy 
Known as the Umbrian vegetable soup, Zuppa di verdure all'agliata includes a wide range of vegetables cooked lightly before being added to the soup, which helps bring out their natural flavour. The variety of ingredients in this concoction ensures that every diner (even non-vegetarians) will fall in love with it.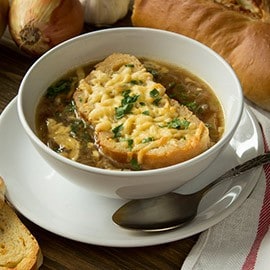 French onion soup
Country of origin: France
French onion soup is one of the classic favourites when it comes to soups. If you don't already have this on your menu, you should consider making it a regular item. It's ideal for restaurants as it can be made quickly and is very versatile – the recipe works well with both vegetable and beef stocks, so it can be catered to the taste of all customers. You can serve cheese and bread on the side with it too. Remember to be generous with the garlic and onions as well as the wine when making it!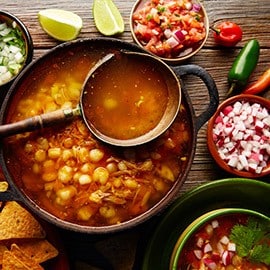 Pozole
Country of origin: Mexico 
Let's head to the other side of the globe and have a look at this aromatic soup from Mexico. This one does take a bit of time to prepare, but is filling and goes perfectly well with salads.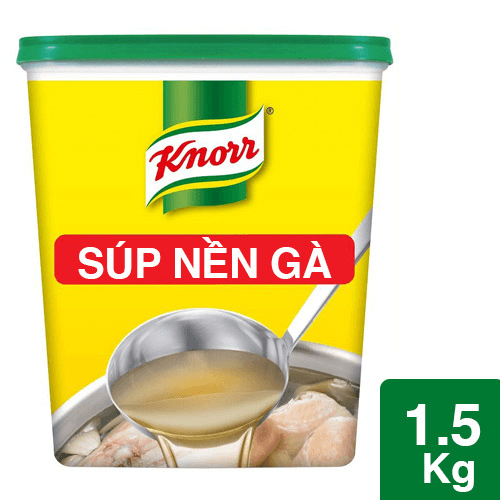 Made for Chefs by Chefs. Knorr Chicken Broth Base is made with quality chicken, blended with spices to give you that full bodied meaty flavour and chicken aroma. With a delicious meaty flavour, you can also use Knorr Chicken Broth Base to replace bones and meat as desired, especially in stocks, soup dishes, stews and hot pots.
Find out more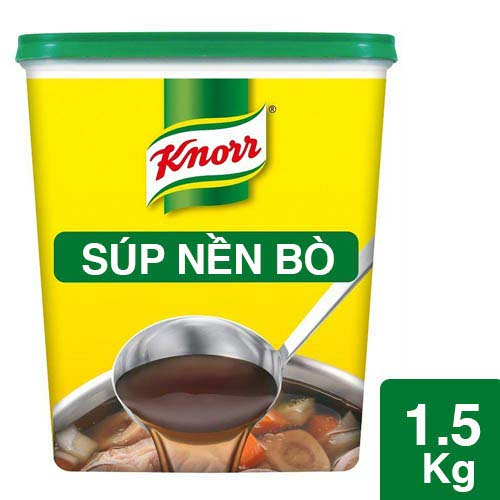 Bí quyết đồng nhất hương vị, cho nước dùng sánh đậm vị thịt và tốt cho sức khỏe

Knorr Súp Nền Thịt Bò được hầm với thịt bò chất lượng cao và hòa quyện với gia vị để mang đến hương vị thơm ngon đậm đà cho những món bò nhưng vẫn tiết kiệm được nhiều thời gian và chi phí. Bạn có thể sử dụng Knorr Súp Nền Thịt Bò thay thế xương và thịt bò như mong muốn, đặc biệt trong các món như nước dùng, súp, hầm và lẩu.

Ngày nay thực khách có nhu cầu ăn uống lành mạnh hơn, nhưng món ăn vẫn phải đậm đà hương vị và đem lại cảm giác ngon miệng. Đó cũng chính là lý do Knorr súp Nền Bò hầm với thịt và xương ra đời. Giờ đây, thật đơn giản và tiện lợi để những người đầu bếp tạo ra nồi nước dùng thơm ngon và hương vị đồng nhất phục vụ bữa ăn cho thực khách.
Find out more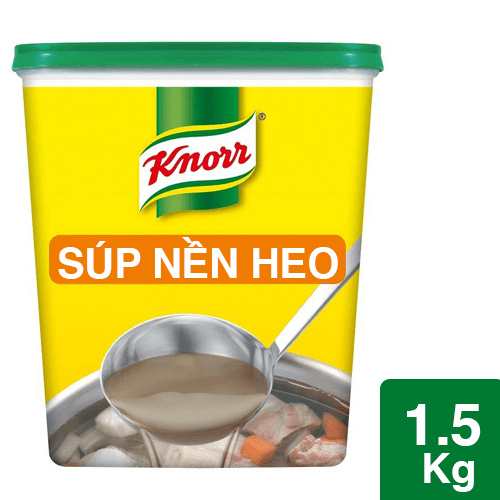 Made with carefully selected quality pork meat, fat and flavours, in an easy-to-use paste format. It gives your dishes a rounded taste, full-body flavour, and pork aroma - a perfect base for your pork-based stock, soupy dishes and stews.
Find out more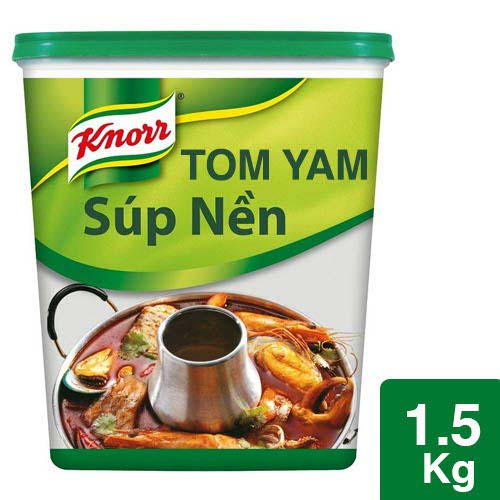 Knorr Tom Yam Paste is prepared from traditional Thai recipe. The ingredients are carefully selected for the authentic Thai Tom Yam aroma and taste. It is suitable for preparing Tom Yam soup and spicy dishes.
Find out more