Gỏi Bồn Bồn Lá Cóc Cá Trê Chiên Xù
The salad with typical southern Vietnamese vegetable ingredients, the crispy tub soaked in a balanced sweet and sour sauce served with toad leaves and deep-fried catfish is both strange and familiar, creating an extremely attractive dish. taste and make an impression on diners.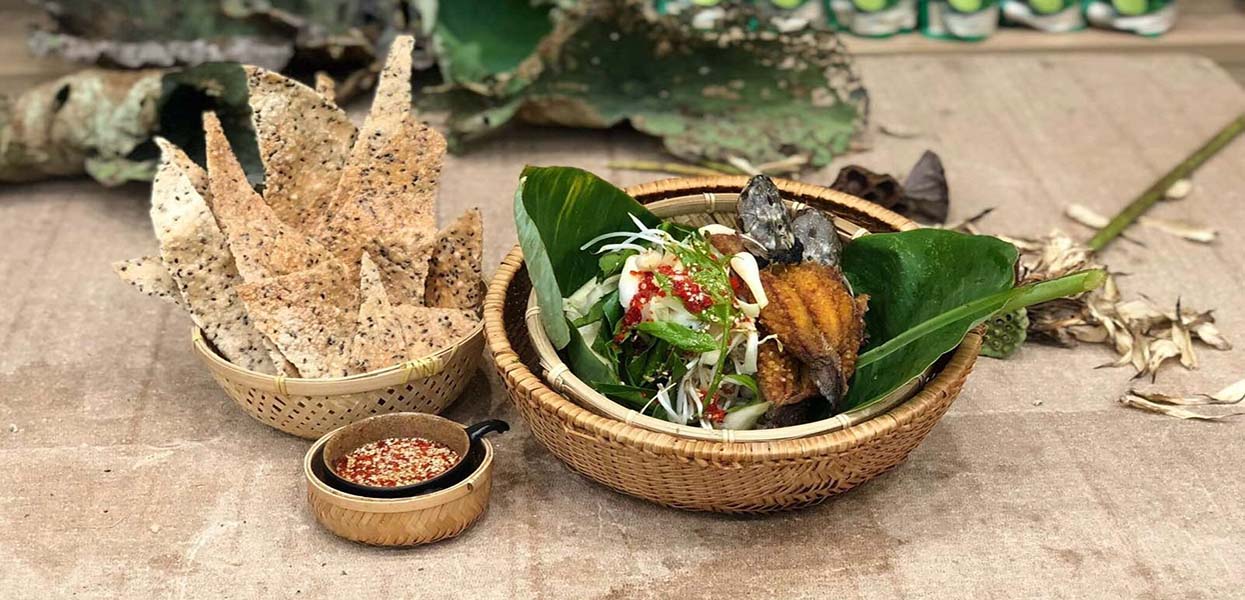 Ingredients
Sơ Chế
Cá trê - 2 con nhỏ

300.0 g
Thực Hiện
Cốt chanh dây có hạt

600.0 g

Red goat horn chili

100.0 g
Phục Vụ
Bồn bồn ngâm chua

300.0 g

Cyclocheilichthys Enoplos

60.0 g
Preparation
Sơ Chế

Cá trê làm sạch, phi lê lấy xương để nguyên con, dần cho nát phần thịt vẫn giữ nguyên con không nát, rửa qua muối và dấm cho ráo nước.
Chiên vàng khi dùng   

Thực Hiện

Pha nước xốt:

Chanh dây lấy hạt, lọc bỏ bớt 1/2 hạt.
Còn lại cho đường, muối, Xốt Nêm Đậm Đặc Thịt Gà Knorr, cuối cùng cho.
Bột Chanh Knorr vào.
Để nguội rồi thêm ớt là hoàn thành.    

Phục Vụ

Bày Bồn bồn, lá cóc, giá trộn đều với 40g nước trộn xốt rồi bày ra đĩa.
Cho rau thơm, cá trê vừa chiên lên.
Khi dùng thêm 40gr nước xốt còn lại vào và rắc mè lên cùng.
Món có thể ăn kèm bánh đa.
Dùng nóng là ngon nhất.